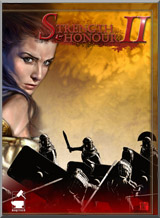 Direct sales for this title have concluded.
Strength & Honour 2 is available for purchase as a digital download on GamersGate. Click here to view the product page.
This special offer has concluded:
Customers whose pre-orders are received before 11:59 PM Eastern Time on November 19, 2009 will receive one special promotional wallpaper through e-mail for each copy of SNH2 that they order. Customers can choose one character that they like in the game after they receive their copy and we will make a high-resolution portrait wallpaper for each customer. Just email us ( This e-mail address is being protected from spambots. You need JavaScript enabled to view it ) the character's name from the game and your preferred resolution (up to 1920x1200) before December 15, 2009 and we will send each customer their custom made wallpaper before Christmas. You can view a sample wallpaper of Attalus I by clicking here.

(A localized version of the game will be available from our publishing partner in Russia.)
Description
Strength & Honour 2 is an empire building turn-based and real-time battle strategy war game that is set in the ancient world. The game allows the player to take the seat of an ancient ruler. They have eight civilizations to choose from with over 25 nations from Rome, Carthage, Egypt, Persia and the Gauls in the West to China, the Huns and Maurya in the East. Rather than kill monsters and find treasure, SNH2 takes the player back in history to a time when empires were built not just through wars and a life of the sword, but the player must face the real obstacle of ruling a nation; maintaining peace and unity within the empire.

Building an empire is one thing, but sustaining one is a whole other matter. As the player builds up the empire's foundation through sword and might and expands across the world, the internal problems of running an empire start surfacing and requires more attention from the player. Local governors may demand more of their fair share of the wealth and land in the empire, the expedition marshal may overshadow the ruler's popularity and became more of a threat to the ruler than foreign enemies or generals may start to form political parties that begin to dictate the direction of the player's commands and so on.

Strength & Honour 2 shows the player the trials and tribulations on the road to creating a truly successful empire.
Learn more about Strength & Honour 2
System Requirements
Windows XP SP2 or above
2.0 GHz processor or higher
1 GB or more of RAM
Minimum 64 MB, 100% OpenGL 1.3 compatible video card
The following video cards might have compatibility issues with Magitech games: eVGA nVidia GTX 275 and some ATI Radeon cards. Please download and try the video card compatibility test program to test your video card's compatibility before you purchase the game.
6.0 Gigabyte of uncompressed hard disk space
DVD-ROM drive, mouse, keyboard