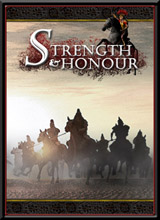 This title is no longer for sale.
(Localized versions of the game are available from our publishing partners in Australia/New Zealand, Spain, Italy, Poland, Russia, and China.)
Description
Empire Building in the Ancient World:
Strength & Honour is a game of empire building in the ancient world, spanning over four hundred years of history, 220 BC to 200 AD, and encompassing seven major civilizations from Carthage and Rome in the West, to India, and China in the East.
Use the strength of your generals and military to defend your people and challenge your enemies in real-time, 3D battles of epic scale. Act honourably in politics and trade to earn the respect of your neighbors. Use diplomacy, philosophy, trade, and military might to develop your cities and help your nation become a major world power.
Learn more about Strength & Honour
System Requirements
Windows 2000 or XP
1.0 GHz processor or higher
256 MB or more of RAM
Minimum 32 MB, 100% OpenGL 1.1 compatible video card
The following video cards might have compatibility issues with Magitech games: eVGA nVidia GTX 275 and some ATI Radeon cards. Please try the demo version for the video card compatibility before you purchase the game.
1.0 Gigabyte of uncompressed hard disk space
CD-ROM drive, mouse, keyboard