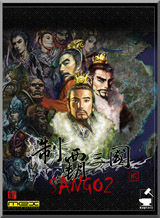 Direct sales of this title have concluded.
Sango 2 is available for purchase as a digital download on GamersGate. Click here to view the product page.
Special Offer for previous customers:
If you purchased Sango (English) within the past 6 months before April 28, 2008, you can buy Sango 2 (English) for only $9.95 USD.
Please contact This e-mail address is being protected from spambots. You need JavaScript enabled to view it if you qualify for this special offer and want to order.
(Localized versions of the game are available from our publishing partners in Taiwan, Hong Kong, and Russia.)
Description
Sango 2 is a historical war game based on the Chinese classic, Romance of the Three Kingdoms. Rewrite the history of the Three Kingdoms era by playing as the ruler of one of the great nations, such as Liu Bei, Cao Cao, or Yuan Shao. There are three campaigns to choose from, representing three different time periods to reshape.
Your mission is to expand your nation, take control of all twenty-eight castles, and reunite China. People from Chinese history are your subjects and your enemies. Take advantage of the intelligence of a famous advisor, and the combat skills of a famous general.
Use Sun Tzu's military strategy on the battlefield and when dealing with enemy nations. Challenge yourself and see if you truly understand the Art of War.
System Requirements
Windows XP SP2 or above
2.0 GHz processor or higher
512 MB or more of RAM
Minimum 64 MB, 100% OpenGL 1.3 compatible video card
The following video cards might have compatibility issues with Magitech games: eVGA nVidia GTX 275 and some ATI Radeon cards. Please try the demo version for the video card compatibility before you purchase the game.
3.0 Gigabyte of uncompressed hard disk space
DVD-ROM drive, mouse, keyboard