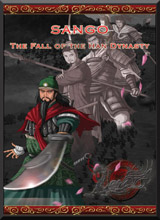 This title is no longer for sale.
(For customers in Taiwan, a localized version is available from our publishing partner.)
Description
Sango is a real-time war game, based on the Chinese novel, Romance of the Three Kingdoms. The emphasis of Sango is a combination of the grand battlefield action of a real-time strategy game and the story and character development of a role-playing game.
During the period of the Three Kingdoms in ancient China, combat meant using armies armed with swords, spears, bows, and horses to wage war. In the game, you will have the chance to control these armies from the perspective of Liu Bei, the marshall and commander-in-chief of the fighting force. Instead of controlling each unit at a time, you will command entire divisions of up to eighty men at once. Use formations, planning, and careful strategy to achieve victory!
System Requirements
Windows XP SP2 or above
2.0 GHz processor or higher
512 MB or more of RAM
Minimum 32 MB, 100% OpenGL 1.1 compatible video card
The following video cards might have compatibility issues with Magitech games: eVGA nVidia GTX 275 and some ATI Radeon cards. Please try the demo version for the video card compitability before you purchase the game.
3.0 Gigabyte of uncompressed hard disk space
DVD-ROM drive, mouse, keyboard